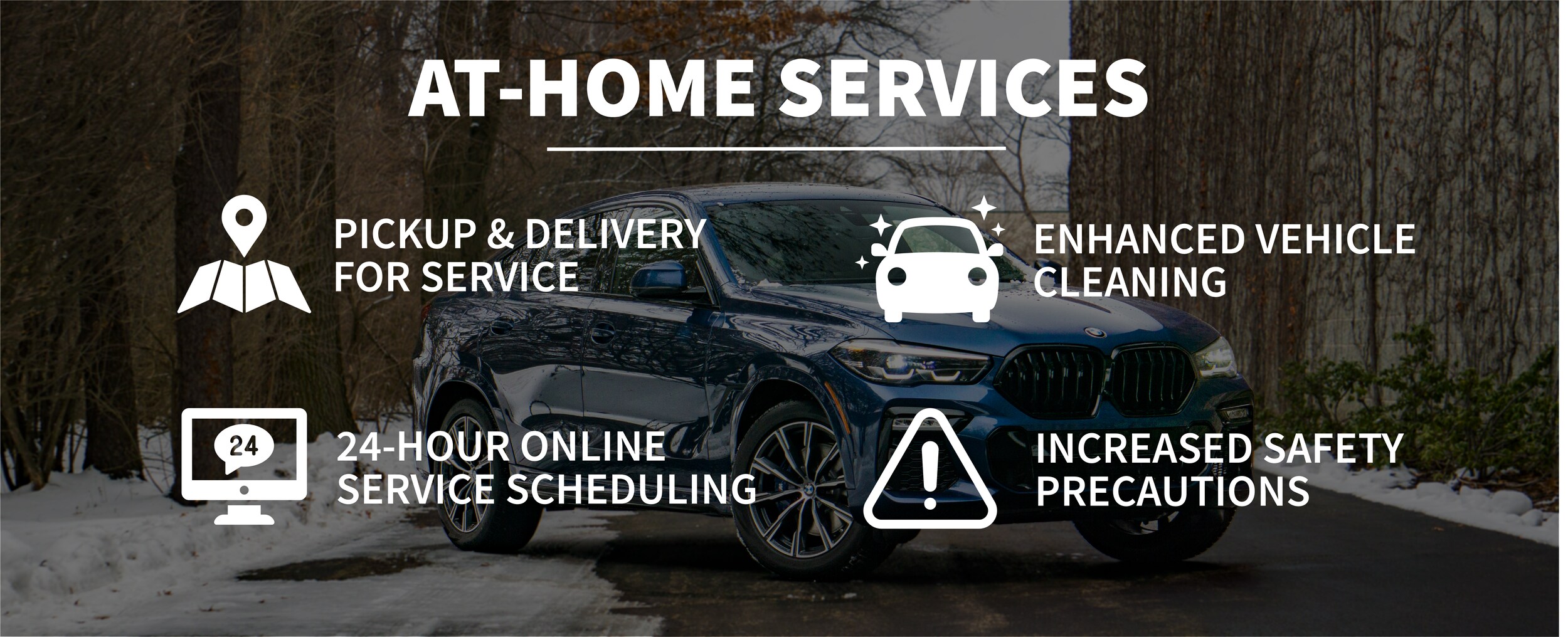 Knauz Pick Up And Delivery
Because there's no greater importance to us than your piece of mind and safety, Knauz provides you with pick-up and delivery, the effortless way to service your vehicle. Just schedule a time and place convenient to you, and we'll bring you a loaner vehicle when we pick up yours.
1. GET IN TOUCH
Scheduling your pickup is simple through our convenient online service scheduler or by phone at 888-436-2774. You choose the time and place, and we'll be there.
2. SEAMLESS EXCHANGE
Our Service Valets will come to you anywhere within our designated service area and provide you with a courtesy vehicle if needed
3. CONVENIENT UPDATES
We'll send you updates via email, text or by phone, whichever you prefer so you are kept informed of your vehicle's progress. We'll even let you know when your valet is on the way. Staying up to date has never been simpler.
4. READY TO DRIVE
We'll deliver your vehicle back to you washed, sanitized and serviced and ready for you.
Touchless Pick up and Delivery - Technology to Keep You Safe
From the moment you schedule your service appointment online, or drive into our service lane, we are utilizing technology for a no-contact experience from start to finish. We are able to seamlessly provide repair order detail, approval processes, insights into your vehicle needs, and e-payments from the safety of your mobile device. Call us today to inquire about our easy no-contact service process.
From the moment you drive into our service lane, you are greeted by a service expert wearing the proper safety equipment to ensure a no contact experience. 
We have a unique technology that allows us to complete your transaction completely and safely without contact. Whether it's to authorize a repair on your vehicle or to make your payment before departure, you can do this from your own mobile device. Our service advisers will text or email you the link to open and electronically authorize work or payments.
Making you comfortable throughout your visit does not end when the repair is complete. We make sure that your car is sanitized fully before you get into your vehicle so you have the peace of mind that your repair was completed with your safety in mind.
Enhanced Vehicle Cleaning - Increased Safety Precautions
The health and safety of our customers and employees is always our most important priority. As we continue to learn more about the Coronavirus (COVID-19), we focus on how it could affect our customers and employees. In our dealership, we are following guidance from the Centers for Disease Control and local health agencies for staying healthy. We will continue to monitor the situation and relay any crucial updates regarding our business operations to you as we navigate this global event together.
Among other measures, throughout our organization, we have:
Instructed employees to frequently wash their hands and stay home if they feel sick
Encouraged social distancing and eliminated handshakes
Increased the frequency of cleaning each day
Increased cleaning of high traffic areas, such as countertops, door handles, and restrooms
Cancelled large meetings and travel throughout our company
Instructed employees to follow CDC guidelines and closely monitor their health
GUESTS AND EMPLOYEES FIRST
Knowing your vehicle is essential to your daily life, we are keeping our service lanes and virtual showroom open to assist you with all your automotive needs. Reliable, safe transportation is essential and we are proud to continue serving our guests using a No-Contact shopping experience. We want to continue to play a role in helping everyone get through this together and supporting our community.
NO-CONTACT TEST DRIVE
For your test drive, a sales associate will drive the vehicle** to your location. Upon arrival, our sales associate will, sanitize the vehicle paying special attention to the steering column, controls, and gear shifter. Once complete, we will contact you letting you know your vehicle is ready and that the keys are in the cup holder for you.
All that's left is for you to enjoy the test drive. Our sales associate will wait patiently for you to return. When you're finished, simply leave the keys in the cup holder and our sales associate will handle returning the vehicle to our store. We will be sure to follow up with you to answer any questions you may have about the vehicle
NO-CONTACT VEHICLE PURCHASE
Once you've selected the perfect vehicle, stepping foot into the store is not required*. Utilizing our state-of-the-art processes and technologies, we can now get you into any vehicle without ever stepping foot into our store. Our sales associate will guide you through the process step-by-step to ensure you are getting everything you need and that you feel comfortable throughout the process.
Delivery of your new or pre-owned vehicle should be a special moment, and this is no exception. We will make an appointment to deliver your new vehicle right to your door. A sales associate will sanitize your vehicle, and leave final paperwork, owners' packet and keys in the location of your choosing. It's that easy.
*Select lending institutions, may still require purchase agreements and finance/lease contracts to be signed in the dealership.
** Select models may not be available for at home test drives