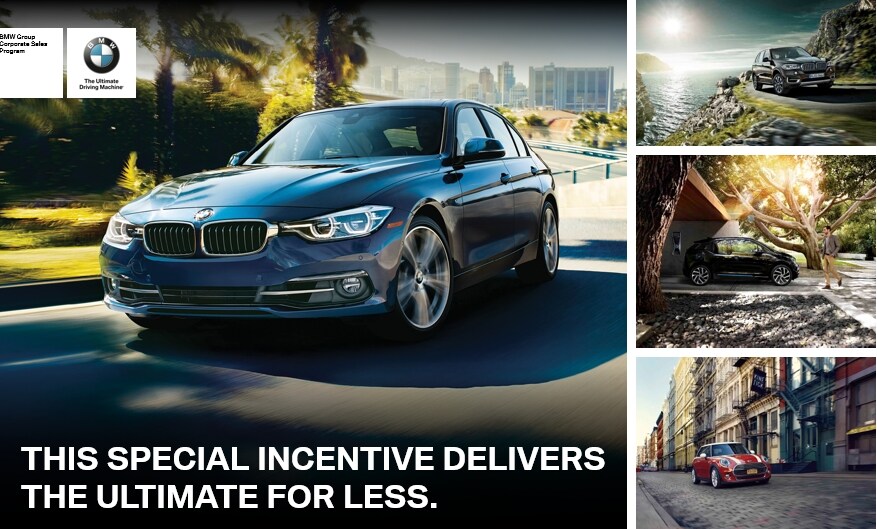 Has the company you work for partnered with BMW for Corporate Sales
Member Savings? Many corporations in the area have, including:
AbbVie, Inc.
Abbott Laboratories
Aon Service Corporation

Baxter International Inc.

JPMorgan Chase
Medline Industries, Inc.

Mondelez International
NorthShore University HealthSystem
Walgreens
Plus many others
What does this mean for you? Additional savings may be available to you ranging from $500.00 to $5,000.00 on select models. This corporate Sales Incentive can also be combined with most Regional or National Sales Support Programs. Please see our sales team for additional information, or click the link below for more details.

http://bmwgroupcorporatesalesoffers.com/

Incentive amounts are subject to change without notice and should be confirmed with your dealer at the time of transaction. The Corporate Sales Incentive must be used at time of purchase/lease.
Disclaimer:
BMW Company Vehicles, Extended Test Drive, Shuttle/Limo, Retired Service Loaner Vehicles, and Pre-Owned vehicles are not eligible. The Corporate Sales Incentive cannot be used in conjunction with the BMW Ultimate Drive Event, BMW Car Club, BMW College Program, BMW Group Partner & Family Program, BMW CCA program, European Delivery Program, Diplomatic Program, USAA and/or Military Sales Program, BMW Limousine & Hotel Shuttle Program, BMW VIP Purchase Program, and previously reported vehicles with 300+ miles.
Offers/Affiliated companies are subject to change without notice